Bad Little Brother 🐣
Critical design, queer ideas, very pretty.

Bad Little Brother is a design research outfit based in Brooklyn, NY and Boston, MA. We pursue collaborations with spatial designers, artists, fashion designers, community organizers and political activists, comedians, and other performers. We revel in the contradictions of public space under capitalism.

Bad Little Brother was founded in 2016 by Julie Shapiro and Ben Barsotti Scott. Scroll down to see our recent work or read more about us here︎.
How can we have fun in a crisis? A manifesto (ongoing). Architectural spaces are complicit in the formation of a political subject. Bathhouses, bathrooms, night clubs, stage sets, cruising grounds: we are interested in sites of pleasure. ︎ In a culture that says womxn's and queer bodies are not worth caring for, womxn and queers taking pleasure in each others' bodies is a radical act of coalition building. We seek out spaces that care for bodies and feelings. We believe that space-making can be a radical practice of political liberation.

We are sick of fem-phobic architectural pedagogies that dismiss questions of intimacy, agency, subjectivity, and identity as lacking rigor. We are sick of excessively-universalizing masculinist architectural theories that leverage the supposed objectivity of scientific language to erase the specific material effects of an inequitable society.

We reject embedded ideas of archetype, originality, purity, and "nature" that pervade the discourses of spatial design, and seek instead a lively ethos of empathy, conditionality, tenderness, incompleteness, and humor. ︎ We do not pathologize sadness, nor demand resolution.

We embrace the dizzying queer and pleasant dangers of mirth and mischief, of temporary world-making,1 of alternative hedonisms,2 of differences that can't be assimilated3 and excesses that can't be recuperated.4 We want to recover histories of individual and collective resistance, experimentation, expression, and pleasure through space-making. ︎ We want to revel in the pleasurable contradictions of public space under capitalism, and architecture's unrealized potential to imagine something else.
(1) Lauren Berlant and Michael Warner, "Sex in Public." Critical Inquiry 24, no. 2 (Winter 1998): 547-566. .
(2) Kate Soper. "Alternative Hedonism: Cultural Theory and the Role of Aesthetic Revisioning." Cultural Studies 22, Issue 5 (2008): 567-587.

(3) Timothy Morton. "Queer Ecology." PMLA Vol. 125, No. 2 (March 2010): 273-282.
(4) John Champagne. "Gay Pornography and Nonproductive Expenditure." The Ethics of Marginality: A New Approach to Gay Studies, University of Minnesota Press, 1995, pp. 28–56.



1. Simple Made-Up Machines (with Peggy Noland)
Competition entry,︎ 2018
Simple Made-Up Machines
is an inefficient system for building, operated by outsized and outrageous workers. It is leisurely, roundabout, luxurious, and entertaining. Like a Rube Goldberg machine, it sets chains of events in motion. But it is non-linear: distractible and spontaneous, sometimes repetitive and additive. It is built and lived in at the same time—construction and habitation inspire each other through festive improvisations.
The components of the machine are housed in a scaffold-fence structure, and set in motion by larger-than-life gures of fantastically femme construction workers. The structure makes room for visitors to join in the work, through active rearrangement of the components, or interaction with the builder- gures, or through more leisurely interventions (sitting for rest or conversation, reclining, leaning). The work site is theatrical, welcoming, celebratory, and experimental.
Simple Made-Up Machines
was a collaboration between Bad Little Brother and
Peggy Noland︎
︎
This proposal received an honorable mention from Materials and Applications for its 2019 Open Call,
"Staging Construction"
︎
2. Unrestrooms, an unfinished survey of gender and public space
Exhibition, 2018
Gender is done in the restroom. Public restrooms are sites of personal and political transformation. Equitable access to restrooms by people of all genders ensures visibility and full participation in democratic society.
Drawing from contemporary queer and feminist theories of gender,
Unrestrooms, an unfinished survey of gender and public space
features recent architectural proposals that address the public restroom as a public space that participates in the "sustained, corporeal project" of gender
︎︎
and the constitution of gendered subjectivities. The exhibition features new works by emerging designers addressing the public restroom as a site of realized and potential political resistance by feminist, queer, trans, gender non-conforming, and gendered publics. Featured projects range scales from the single stall to the city, reimagining the disavowed architectural space of the toilet as a site for subversion, gender creativity, pleasure, and political coalition-building. Contributors are students and recent graduates of North American schools of design, including Columbia GSAPP, Harvard GSD, University of Illinois at Chicago, University of Virginia, and University of Waterloo.
Unrestrooms
ran from March 2nd–31st at
Front/Space︎︎,
a noncommercial storefront gallery in the Crossroads district of Kansas City, MO. The exhibition featured a site-specific installation by Bad Little Brother, which rendered the standard dimensions of public toilet stalls in outrageous, glittering tinsel. The exhibition included a reading room with resources on gender in architecture, case studies in public restroom design, and local resources and services for LGBTQIA+ and TGNC publics.
On March 31st, 2018, Bad Little Brother and Front/Space partnered with the
Kansas City Center for Inclusion︎︎
to present a
panel discussion︎︎
on inclusive restroom design. The panel brought together local architects and activists to discuss recent developments in inclusive restroom design, with a particular focus on equitable and just access among trans and gender non-conforming users.
Unrestrooms
was organized through an open call to students and recent graduates of spatial design disciplines. Read the call for contributions
here︎︎
.
Press:
KCUR: At an Exhibit in Kansas City, Designers Begin Solving America's Bathroom Problem︎︎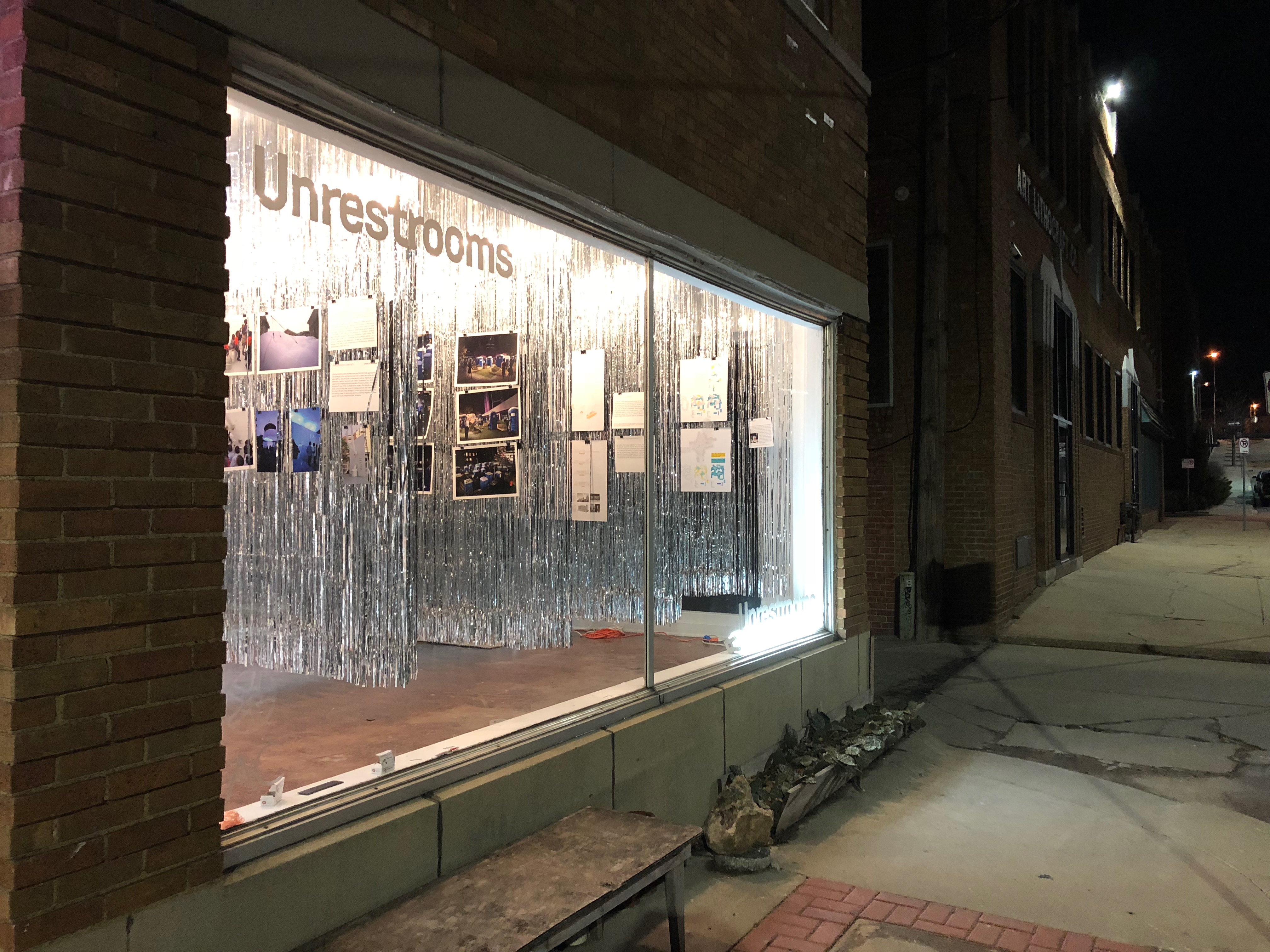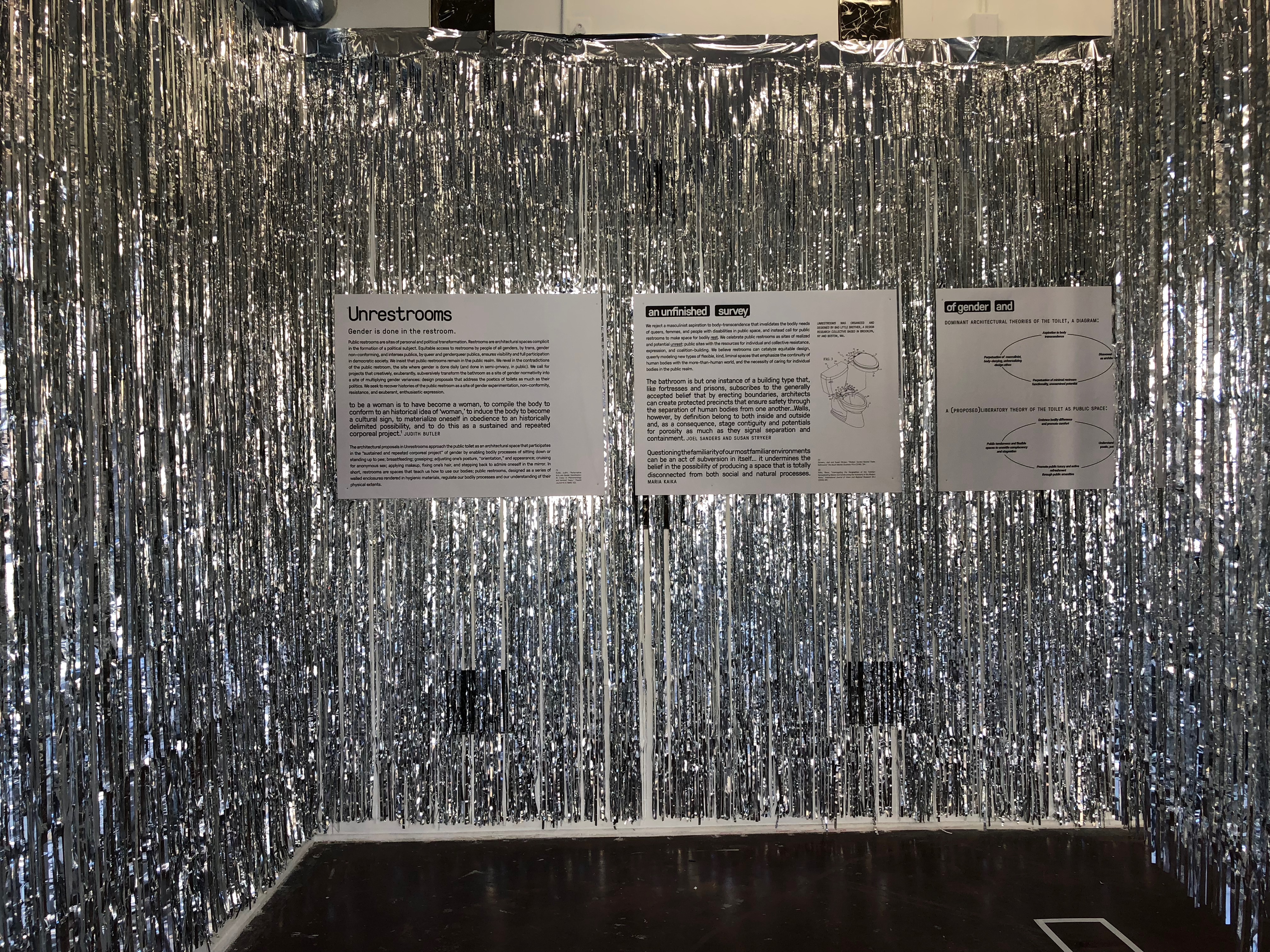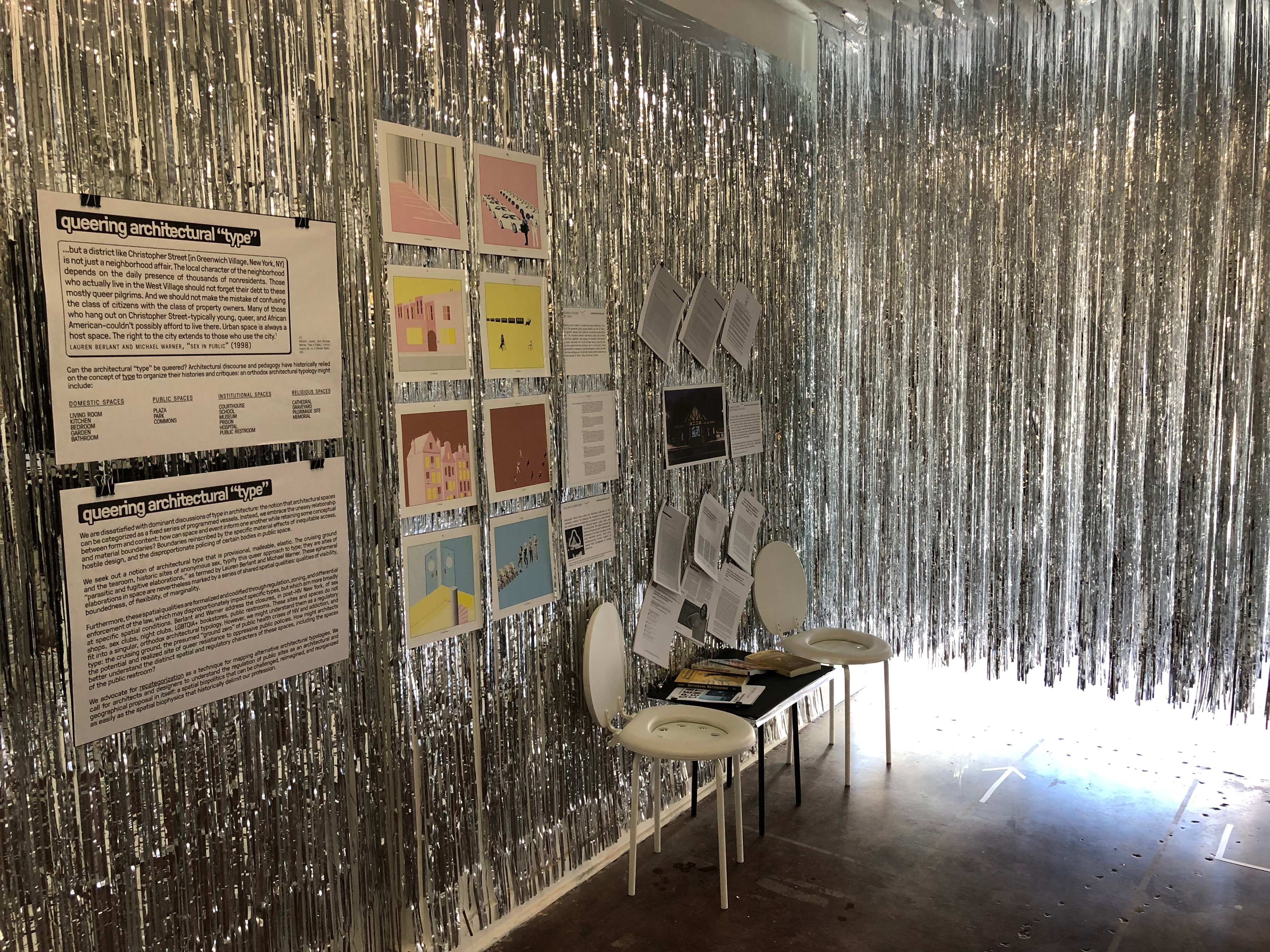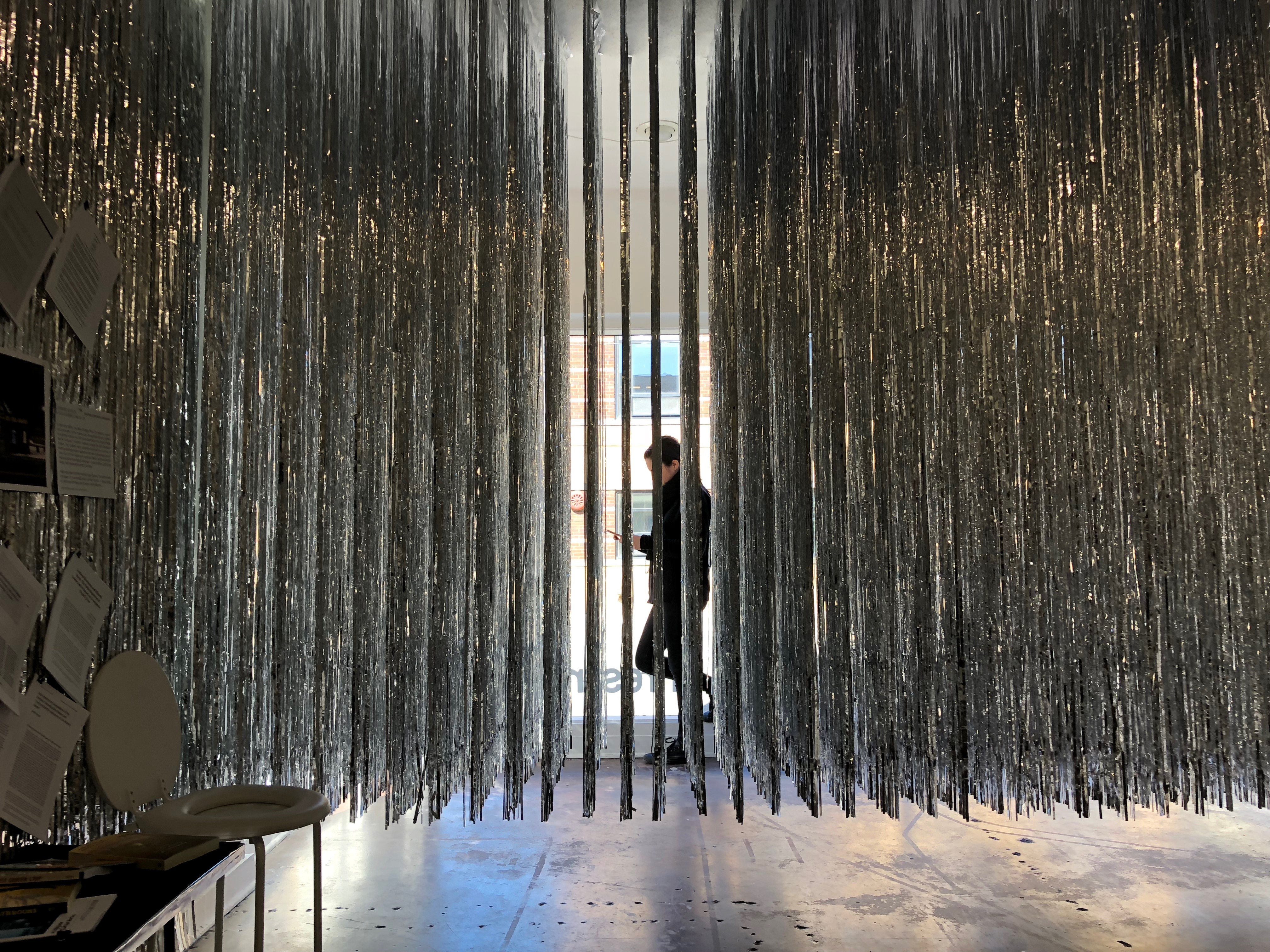 Front/Space and Bad Little Brother partnered with the Kansas City Center for Inclusion to present a panel discussion on public restroom design.
Held on March 31st, the Trans Day of Visibility, this panel brought together architects, activists, and advocates to discuss restroom rights among trans and gender-non-conforming (TGNC) users. Panelists addressed recent developments in restroom access and inclusive design initiatives at colleges and universities, medical facilities, and cultural institutions in the Kansas City metropolitan area. Participating designers placed contemporary restroom design in context of historical analysis, case studies, and current research. This panel discussion was organized in conjunction with Unrestrooms, an unfinished survey of gender and public space. Samantha Ruggles moderated.
Unrestrooms "Stool"
Furniture, 2018
Bad Little Brother designed the "Stool" to furnish the reading room for
Unrestrooms
. The stool is composed of a standard padded toilet seat (a nod to the exhibition's interest in comfort and "rest") and IKEA Marius stools from Front/Space's collection.
We cherish the concept of the IKEA "hack," as well as the dadaist traditions of assemblage. The padded lid can remain closed, or flip up to mimic a chair back. On the night of the exhibition opening, volunteers staffed the reading room to answer questions about restroom rights and local resources for LGBTQIA+ and TGNC folks.
3. Open Center: an interview with Jordan Martins
In conjunction with
Unrestrooms, an unfinished survey of gender and public space
, Bad Little Brother interviewed Jordan Martins, executive director of
Comfort Station Logan Square︎
. Comfort Station is a multidisciplinary arts space on Chicago's northwest side, housed in a twentieth-century public "comfort" facility. Originally one of nine facilities across Chicago's Boulevard system, this comfort station acted as both a public restroom and a warming and cooling facility, an indoor public space for a city with extreme winters and summers.
The conversation addresses Comfort Station's internal structure as a socially-engaged arts non-profit, as well as its position in the Logan Square community and the broader urban and regional arts context.
Read the interview below or at
ISSUU here︎.